....
Our History
The FCSS-FESC
The modern day Federation of Canadian Secondary Students / Fédération des élèves du secondaire au Canada (FCSS-FESC) that many students and education stakeholders know today was not our original name or purpose as an organization.
Becoming the FCSS-FESC was a long process of continual evolution and change that continues to this day. We are incredibly proud of our history and roots as, first and foremost, an educational advocacy organization but are excited to begin a new chapter as an organization that provides services directly to students to empower them in their own education.
The OOSS and Bill 115
The Organization for Ontario Secondary Students / L'organisation pour les élèves du secondaire de l'Ontario (OOSS-OESO) was founded in response to the conflict which arose over the implementation of Bill 115 on September 11, 2012. The measures taken in withholding extra-curricular activities and other voluntary teacher actions in particular placed thousands of Ontario students in the middle of the conflict, and lacking the very life and spirit of their academics. Realizing the magnitude of the potential consequences of these effects, nine students at Abbey Park High School in Oakville, Ontario, founded an organization which now stands to empower student proactivity in all related issues.
..
Notre histoire
Le FCSS-FESC
La Federation of Canadian Secondary Students / Fédération des élèves du secondaire au Canada (FCSS-FESC) que de nombreux élèves et acteurs de l'éducation connaissent aujourd'hui n'a pas été notre nom ou objectif initial en tant qu'organisation.
Devenir la FCSS-FESC a été un long processus d'évolution continue et de changement qui continue à ce jour. Nous sommes incroyablement fiers de notre histoire et de nos racines en tant qu'organisation de défense de l'éducation, mais nous sommes impatients de commencer un nouveau chapitre en tant qu'organisation offrant des services directement aux étudiants pour les habiliter dans leur propre éducation.
L'OESO et le projet de loi 115
The Organization for Ontario Secondary Students / L'organisation pour les élèves du secondaire de l'Ontario (OOSS-OESO) a été fondée en réponse au conflit qui a suivi la mise en œuvre du projet de loi 115 le 11 septembre 2012. Les mesures prises pour empêcher les activités parascolaires et d'autres mesures volontaires étudiants au milieu du conflit, et manquant de la vie même et l'esprit de leurs universitaires. Conscients de l'ampleur des conséquences potentielles de ces effets, neuf étudiants de l'école secondaire Abbey Park d'Oakville, en Ontario, ont fondé une organisation qui vise maintenant à renforcer la proactivité des élèves dans tous les domaines connexes.
....
....
The OOSS was a non-partisan organization consisting of students from all over Ontario - from North Bay to Essex County - which endeavoured to provide accurate information to students on the progress and development of the Bill 115 crisis and its repercussions, as well as to empower the student voice across Ontario. In remaining non-partisan, actions taken by the organization were not mandated by external needs and agendas. The OOSS stood purely for the students, and was run solely by student Executives who manage varying sectors within the administrative upkeep and development.
Students could easily reach out to the organization through the close link between the student body and executive or ambassador members, as well as show their support for an effective solution to the current conflict through accessible events, such as the hugely successful Sport Your Extra-Curricular Day. Schools throughout the GTA, and now beyond to as far as Whitby, North Bay and Ottawa, have Ambassadors within their student body who work to implement the OOSS' campaigns and movements, while relaying concerns and opinions of students to the organization as they arise. They were, and continue to be, the fundamental connection between student and organization, and thus are essential in ensuring students are truly empowered and heard through the OOSS' efforts.
..
L'OOSS-OESO était une organisation non partisane composée d'élèves de partout en Ontario - de North Bay au comté d'Essex - qui s'efforçait de fournir des informations précises aux élèves sur les progrès et le développement de la crise du projet de loi 115 et de ses répercussions. La voix des élèves à travers l'Ontario. En restant non partisans, les mesures prises par l'organisation n'étaient pas dictées par des besoins et des agendas externes. L'OOSS-OESO était uniquement destiné aux élèves et était dirigé uniquement par des cadres supérieurs d'élèves qui gèrent des secteurs variés dans le cadre de l'entretien administratif et du développement.
Les élèves pourraient facilement atteindre l'organisation grâce au lien étroit entre les élèves et les membres de la direction ou de l'ambassadeur, et montrer leur soutien pour une solution efficace au conflit actuel grâce à des événements accessibles, tels que «Sport Your Extra-Curricular Day». Les écoles de la RGT, et maintenant aussi loin que Whitby, North Bay et Ottawa, ont des ambassadeurs au sein de leurs élèves qui travaillent à la mise en œuvre des campagnes et des mouvements de l'OOSS-OESO, tout en relayant les préoccupations et les opinions des étudiants. Ils étaient, et continuent d'être, le lien fondamental entre l'étudiant et l'organisation, et sont donc essentiels pour s'assurer que les élèves sont vraiment habilités et entendus grâce aux efforts de l'OOSS-OESO.
....
....Sport Your Extracurricular Day..Journée de soutien aux activités parascolaires....
....
On January 16, the OOSS hosted Sport Your Extra-Curricular Day where students wore their extra curricular clothing or school colours to school in support of the reinstatement of extra curricular activities.
This non-partisan event united the student voice in our plea for the return of extracurricular activities.
..
Le 16 janvier, l'OOSS-OESO a accueilli Journée de soutien aux activités parascolaires, où les élèves ont porté leurs vêtements ou leurs couleurs scolaires à l'école pour soutenir le rétablissement des activités parascolaires.
Cet événement non partisan a uni la voix des élèves dans notre plaidoyer pour le retour des activités parascolaires.
....
Since its founding, the OOSS has brought several events to consummation, including a Letter Campaign to the union and government, as well as SYEC Day. Efforts were focused on implementing a new umbrella campaign for future events, which would work to evolve the very nature of "extra"-curricular activities to a "co-curricular" nature. The group was also looking into other possible solutions to resolve this crisis – such as the binding-arbitration procedures used in Manitoba. Each event and campaign with this movement endeavours to raise awareness of the Bill 115 issue at hand and the importance of co-curricular activities, while voicing the opinions and concerns of students in a respectful and organized manner. These efforts have been widely recognized by national media, including newspapers such as the Toronto Star, the Globe and Mail, and on air via CBC's Metro Morning with Matt Galloway, as well as CBC's Ontario Today with Kathleen Petty.
The OOSS has met with officials from both sides of the conflict including Oakville MPP Kevin Flynn, Ontario Education Minister Laurel Broten, and most recently, OSSTF/FEESO President Ken Coran; OOSS members have had ample opportunity to attest firsthand to the effects this issue has had on the quality of education within the current learning community.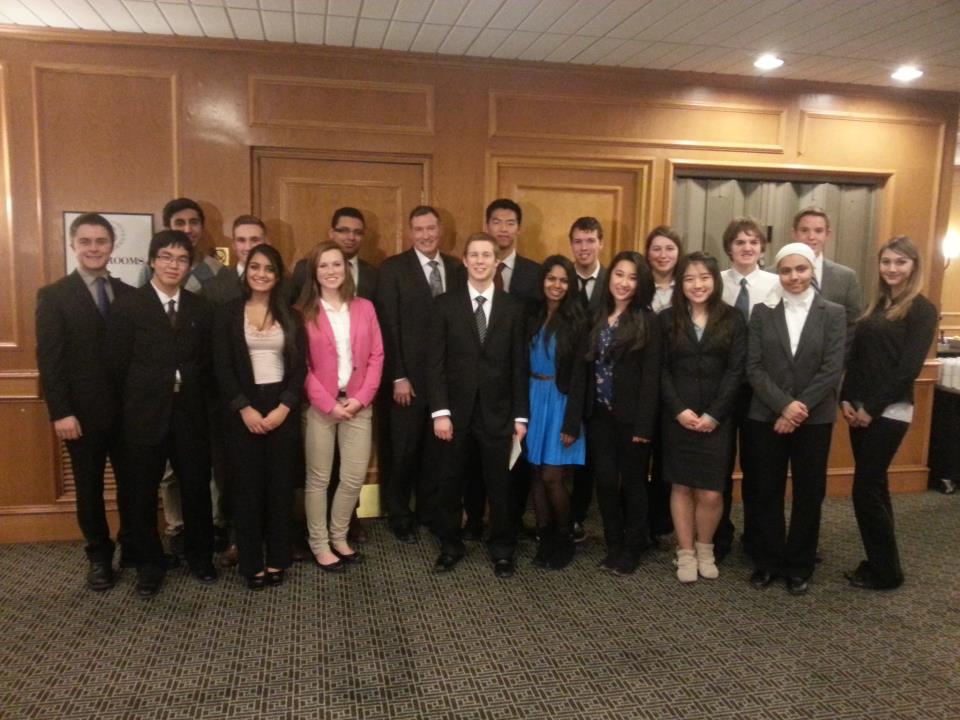 Taking the Student Voice to the Union
Two weeks after Sport Your Extracurricular Day, OOSS Executives met with the president of the Ontario Secondary School Teachers' Federation (OSSTF), Ken Coran.
OOSS Executives met with Mr. Coran at the Sheraton Centre in Toronto to voice student concerns as well as gain a better understanding of the union's perspective.
Most notably, the OOSS created Operation SOS, which was an open petition on behalf of the students, teachers, parents, and trustees of Ontario pushing for an arbitration similar to ones used in Manitoba, so that another Bill 115 conflict will not come to light again. With nearly 1000 signatories, the petition was sent to politicians and educators alike.
As of November 2015, the OOSS expanded its horizons and relaunched as the Federation of Canadian Secondary Students / Fédération des élèves du secondaire au Canada (FCSS-FESC) with provincial branches opening in Alberta, British Columbia, Quebec, and Newfoundland and Labrador. While the mission, vision, and purpose of the new organization has changed, we still remain true to our history and strive to best represent the views of all Canadian secondary students.